The best beaches in Malaga
MS Hoteles
20/07/2022
Ocio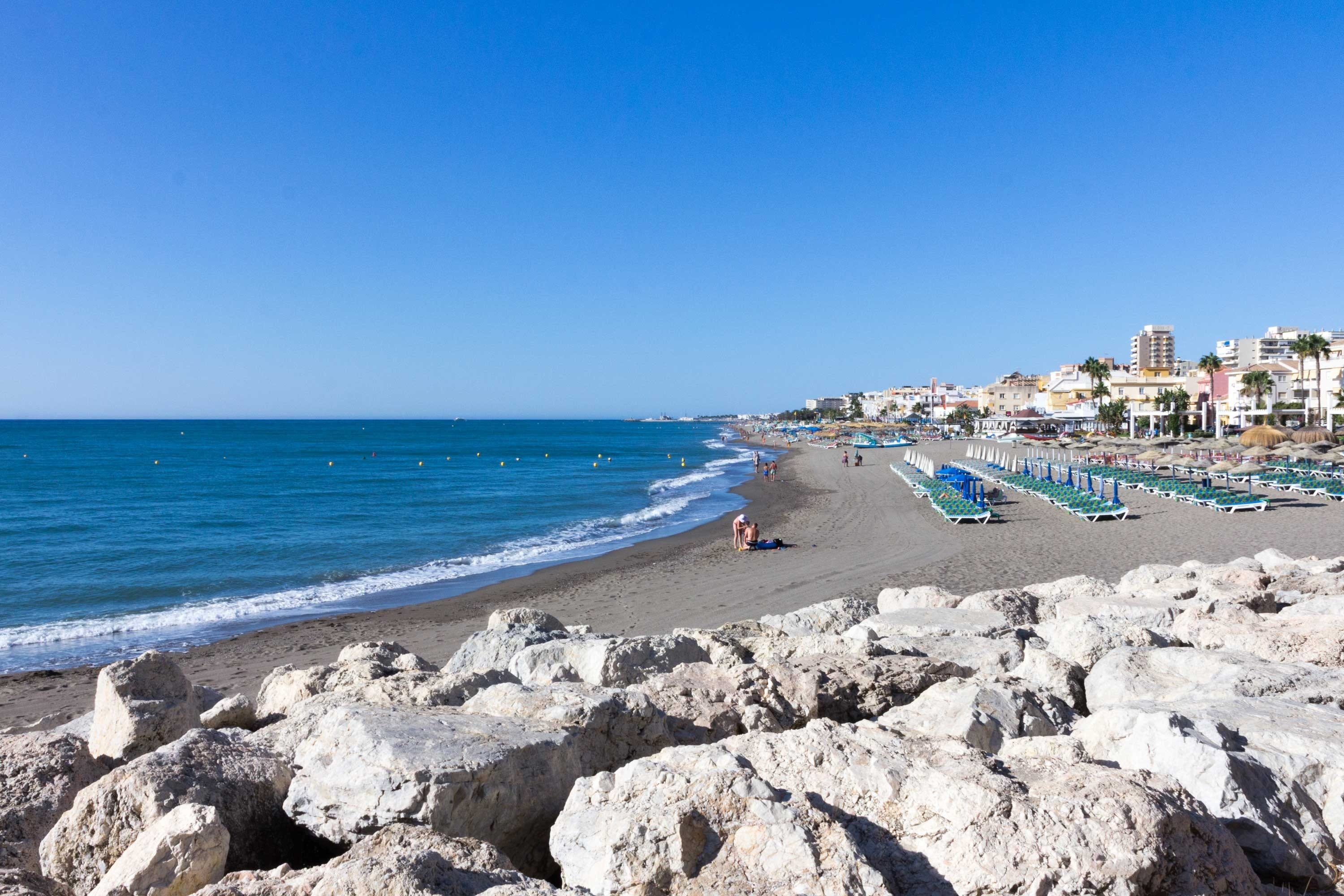 A pleasant climate all year round is one of the reasons to enjoy the beaches of Malaga during any season, not to mention gastronomy, nature and culture. As every summer, we have decided to spend a few days on holiday in a sun and beach destination. Those who love Andalusia and the Costa del Sol know that there are certain beaches that stand out thanks to their beauty, comfort and services. There is something for everyone. Here is our ranking of the best beaches in the province of Malaga. Follow us along the coast from east to west.
Burriana Beach, Nerja
Burriana beachis one of the longest beaches in Nerja, surrounded by shops, restaurants and beach bars where you can take a break to enjoy Mediterranean dishes or have a drink. Burriana beach is surrounded by residential areas, but can be reached on foot from the town of Nerja, or if you are travelling with children or older people, this beach gives you the option to drive if you prefer. This beach has fine sand, crystal-clear water and is surrounded by rocky areas and cliffs like those around Maro. Due to its characteristics, you can easily find kayaks for rent to enjoy an excursion and a unique experience at sea.
Beaches of El Palo, Malaga
The beaches of El Palo are located in the eastern part of the city of Malaga, in a traditional fishermen's neighbourhood. Its main attraction is the seafront promenade lined with bars and restaurants where the speciality is local fish and seafood, and trying an espeto (sardine skewer) is almost a must. These beaches have dark sand, are protected by breakwaters and usually have showers, toilets and a children's playground. Parking is somewhat scarce in this area, but it is very well connected to the city centre by bus.
La Malagueta, Málaga
La Malagueta beach can be considered an urban beach because you can leave any museum, walk for a few minutes and enjoy the most emblematic beach in the city. Here you can enjoy fine sand, clean water, sun lounger rentals, shade under the palm trees and a variety of restaurants right next to Muelle Uno.
Playamar, Torremolinos
On the other side of the city of Malaga lies Torremolinos, a municipality with numerous high-quality, long beaches and access to services. The beaches in this area boast fine golden sand, are shaded by palm trees and are easily accessible by car or on foot. Furthermore, you can use the beach volleyball courts and on windy days you can windsurf.
La Carihuela, Torremolinos
Another of the most recommended beaches in Torremolinos is La Carihuela beach, just like Playamar, it is also easily accessible for disabled people with the possibility of assisted bathing. There is a promenade with numerous bars, restaurants, shops and beach clubs. Did you know that during the 50's and 60's half of Hollywood passed through La Carihuela? The sun, the restaurants, the opening of the first big hotels put Torremolinos in the international spotlight. Come and discover the charm of this typical Andalusian town.
Bil-Bil Beach, Benalmádena
This beach is very convenient to get to from the centre of Benalmádena. It is named after the Bil-Bil castle, of Arab origin, which is located on the seafront promenade, a characteristic place in Benalmádena. This beach also boasts clean, clear water and fine sand.
Carvajal Beach, Fuengirola
There are many beautiful and attractive beach spots in Fuengirola, such as Carvajal beach, between Benalmádena and Fuengirola. Here, in addition to clean waters and fine sand, you can take a stroll along a path running parallel to the coast. This beach is located in a less crowded urban area, although it has all the services you would expect, such as beach bars, beach umbrella rental, shops, lifeguards and others. You can also reach Carvajal beach by train, as the train stop is very close to the coast.
Cabopino, Marbella
In this place, halfway between Fuengirola and Marbella, you can relax in a less urbanised environment because the beach is surrounded by the Artola dunes, which are protected and considered an area of high ecological value. Cabopino and Artola beaches are also a favourite destination for nudists. Parking in this area is limited, but the beauty of this natural environment is well worth a visit.
Puerto Banús Beach
Puerto Banús beach is located right next to the famous yacht harbour. In Marbella and Puerto Banús it is easy to spot celebrities who flock to the glamour of the Costa del Sol. Of course, this beach has golden sand and you will find all the services as well as beach bars and restaurants with all kinds of cuisines, and when night falls you can stroll along La Fama boulevard or have a drink in one of its legendary bars.
El Cristo Beach, Estepona
El Cristo beach in Esteponais formed by a cove with clean waters and dark sand. There is a shaded wooded area with a playground which is perfect for children, as well as access for people with disabilities. Although there is a car park, we recommend you arrive early.